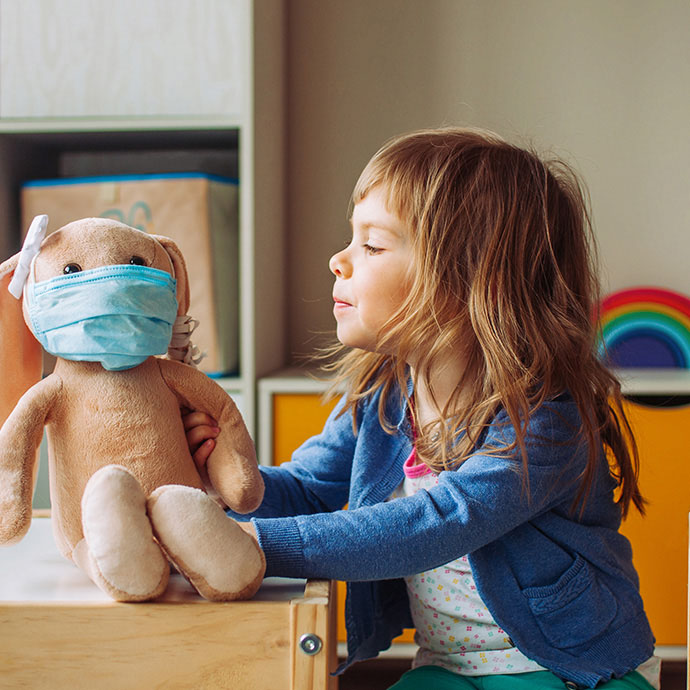 ICC: Vaccination Conversations Poster Hall
These posters were shared at an event in January 2022 - the research reflects what was known at that time.
The posters below are sorted in alphabetical order. Click on the plus sign to view the poster and find contact information for the authors. Feel free to follow up with the authors by email if you have any questions or comments.
A COVID-19 Vaccine Toolkit: Educating Parents and Caregivers of Children Aged 5-11 years on Pain Management Strategies for Vaccinations

Contact: joanne.gallant@iwk.nshealth.ca
A Multicentre Canadian Survey of Caregiver Perspectives on COVID Vaccine Administration-Related Pain and Stress for Their Family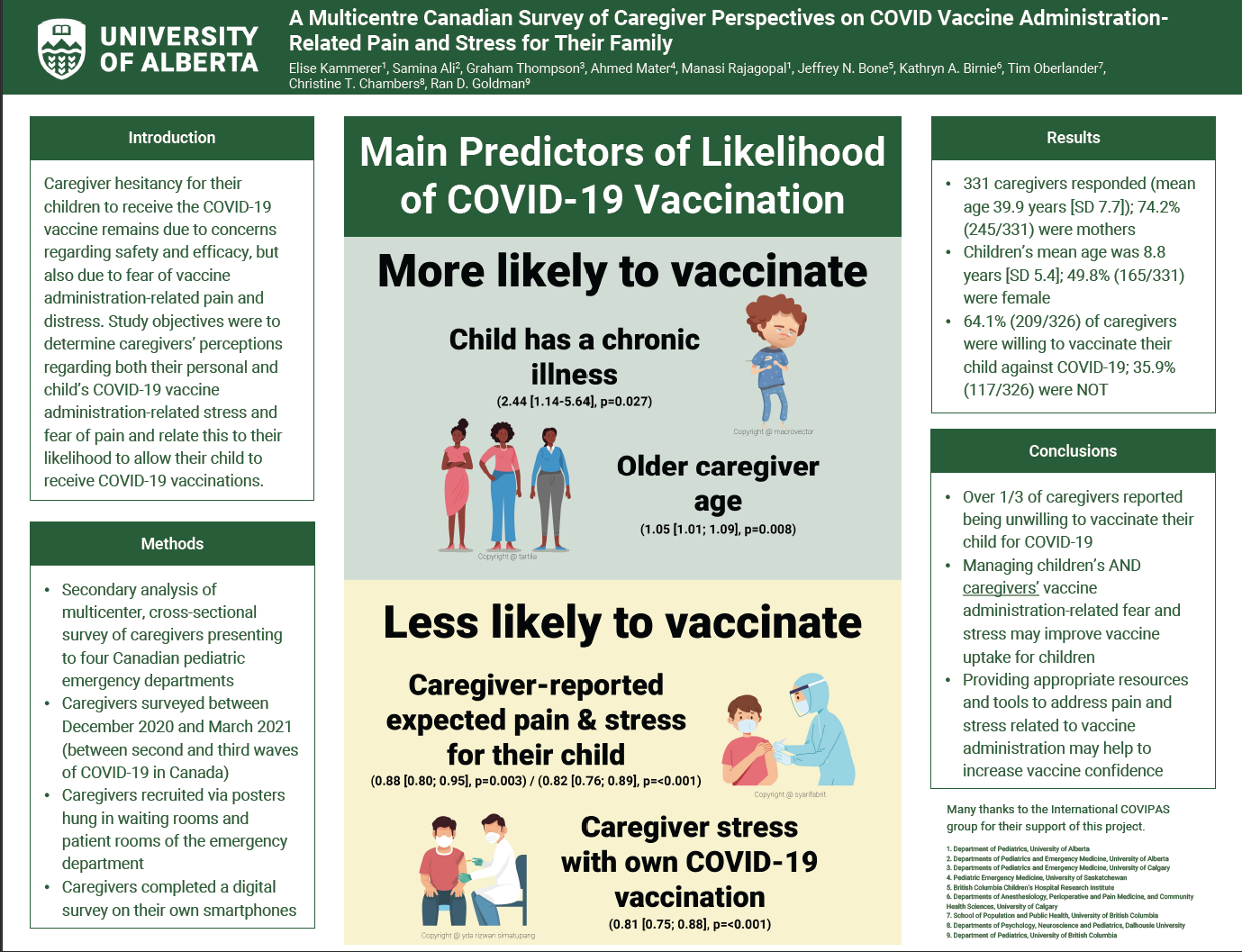 Building Vaccine Confidence for Children and Youth: An Evaluation of a Nurse-Led Provincial Vaccine Consult Service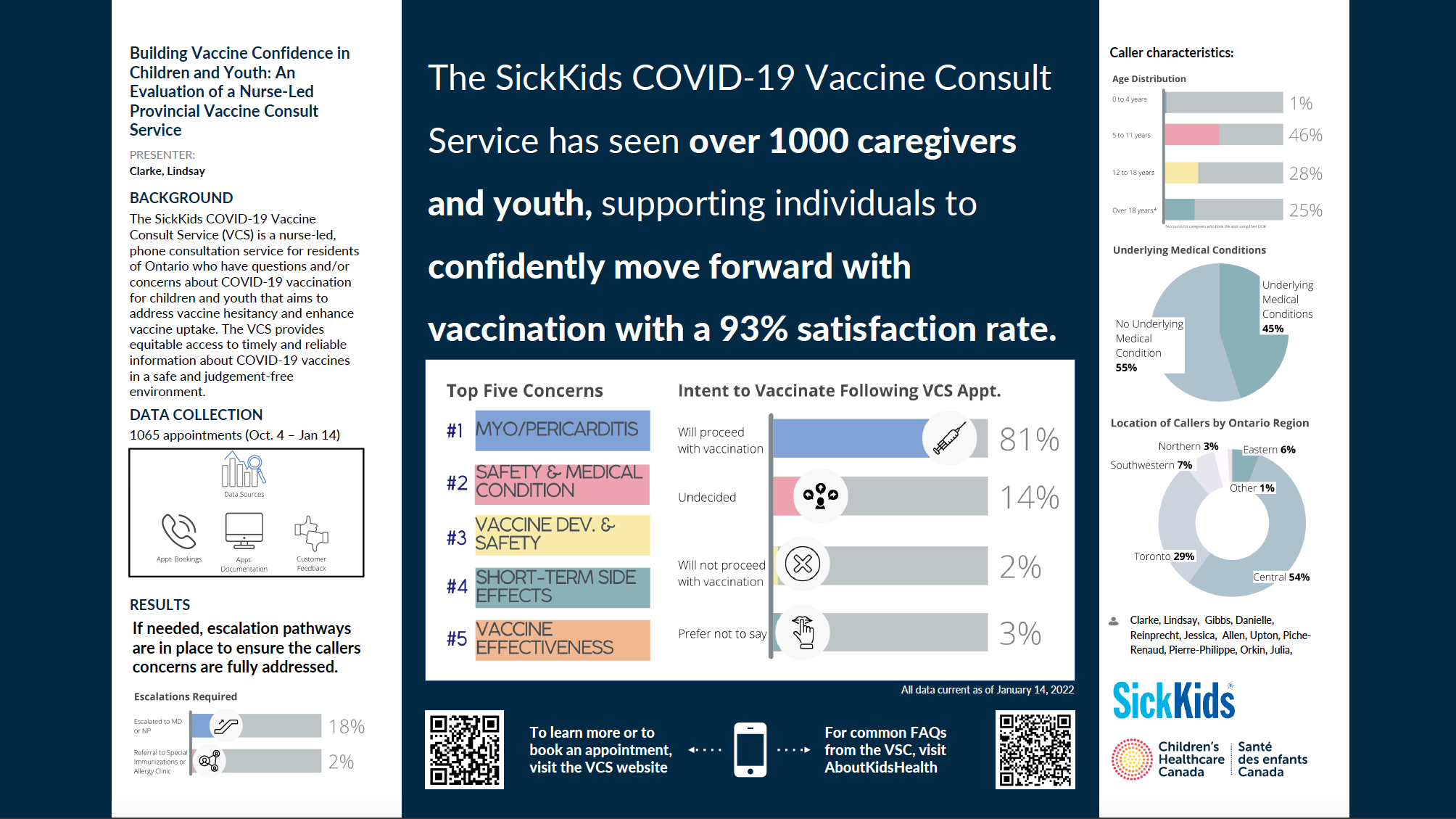 Contact: lindsay.clarke@sickkids.ca
Creating Clinics for Those with Cognitive and Developmental Disabilities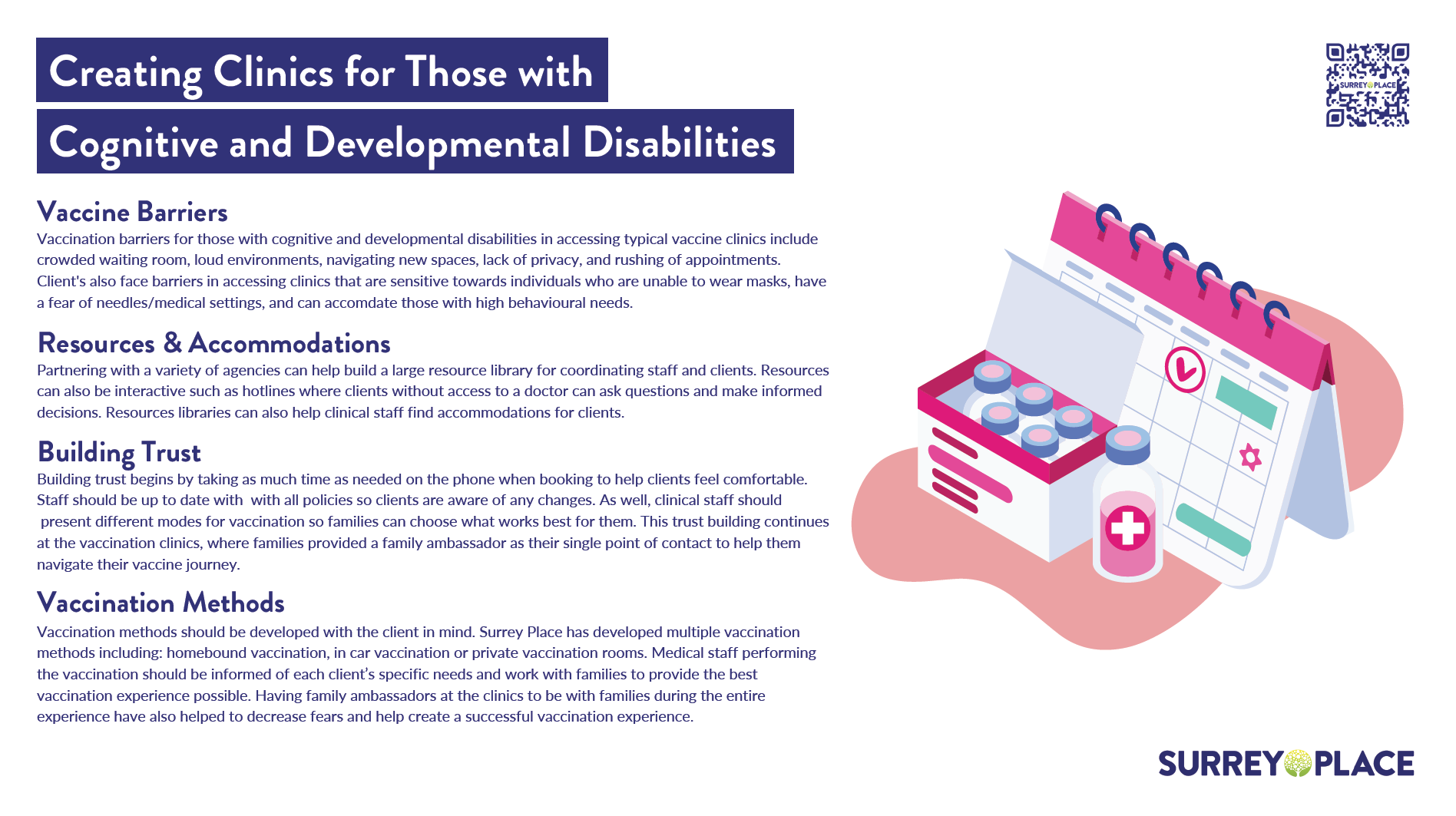 Development and implementation of the Prince Edward Island Vaccine Support Program: Description of a community-based intervention to reduce vaccine hesitancy
Contact: katejtkelly@gmail.com
Equity, Community and Trust: Building vaccine confidence with marginalized populations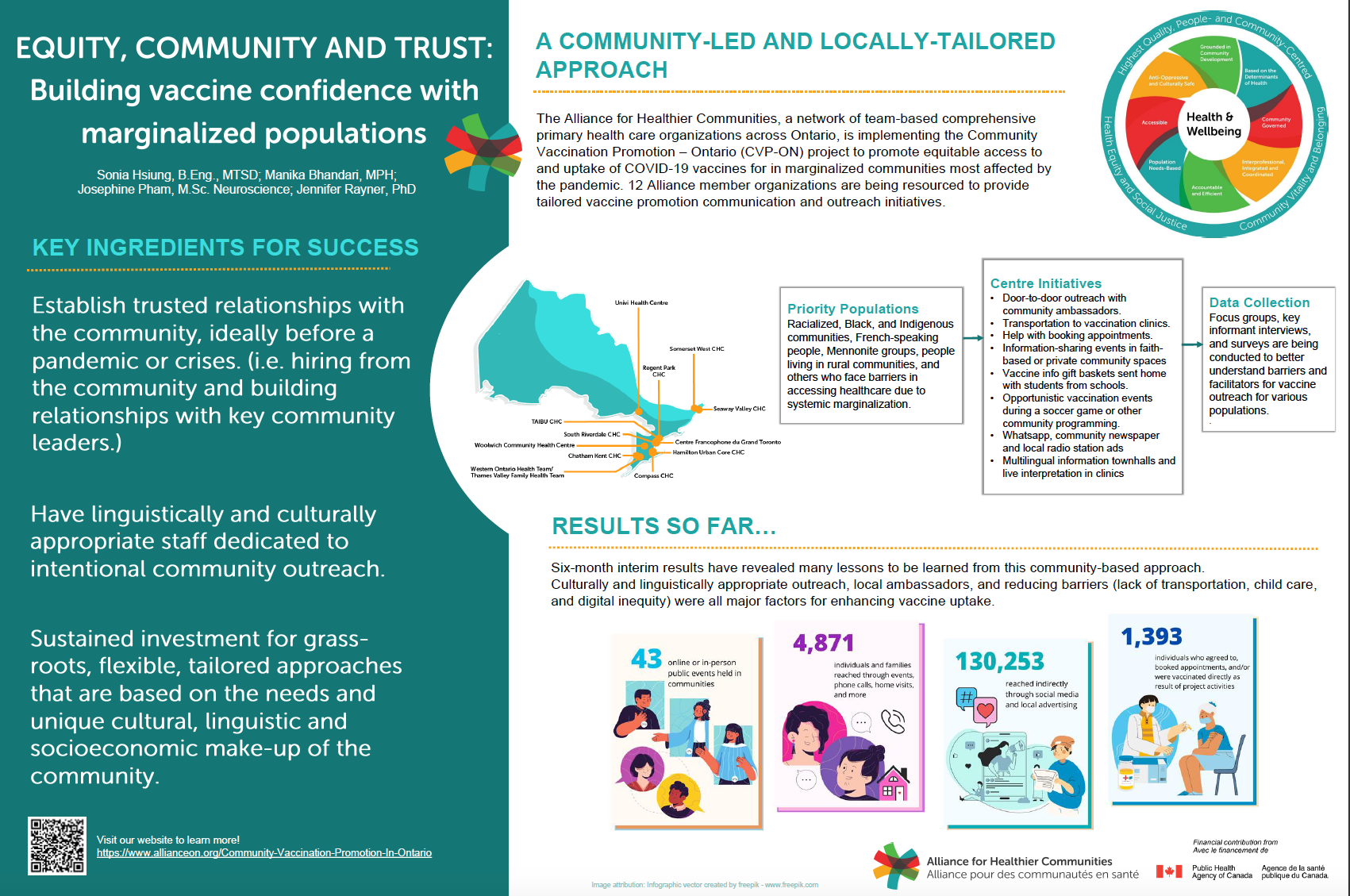 Contact: sonia.hsiung@allianceon.org
Examining factors related to the uptake of a parent-directed knowledge translation resource on vaccination pain management strategies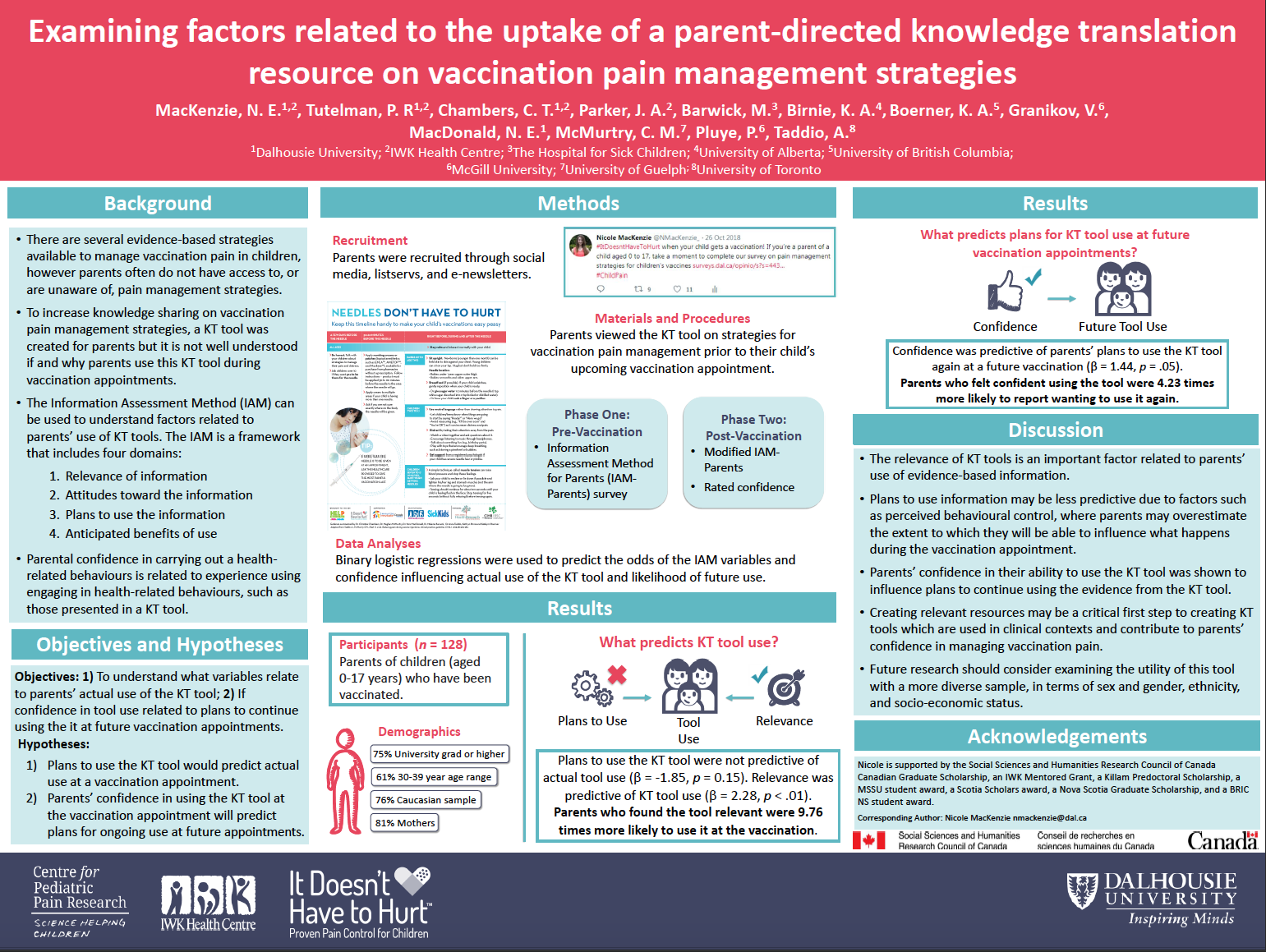 Contact: nmackenzie@dal.ca
Reducing Needle Fear in Children Ages 3 to 6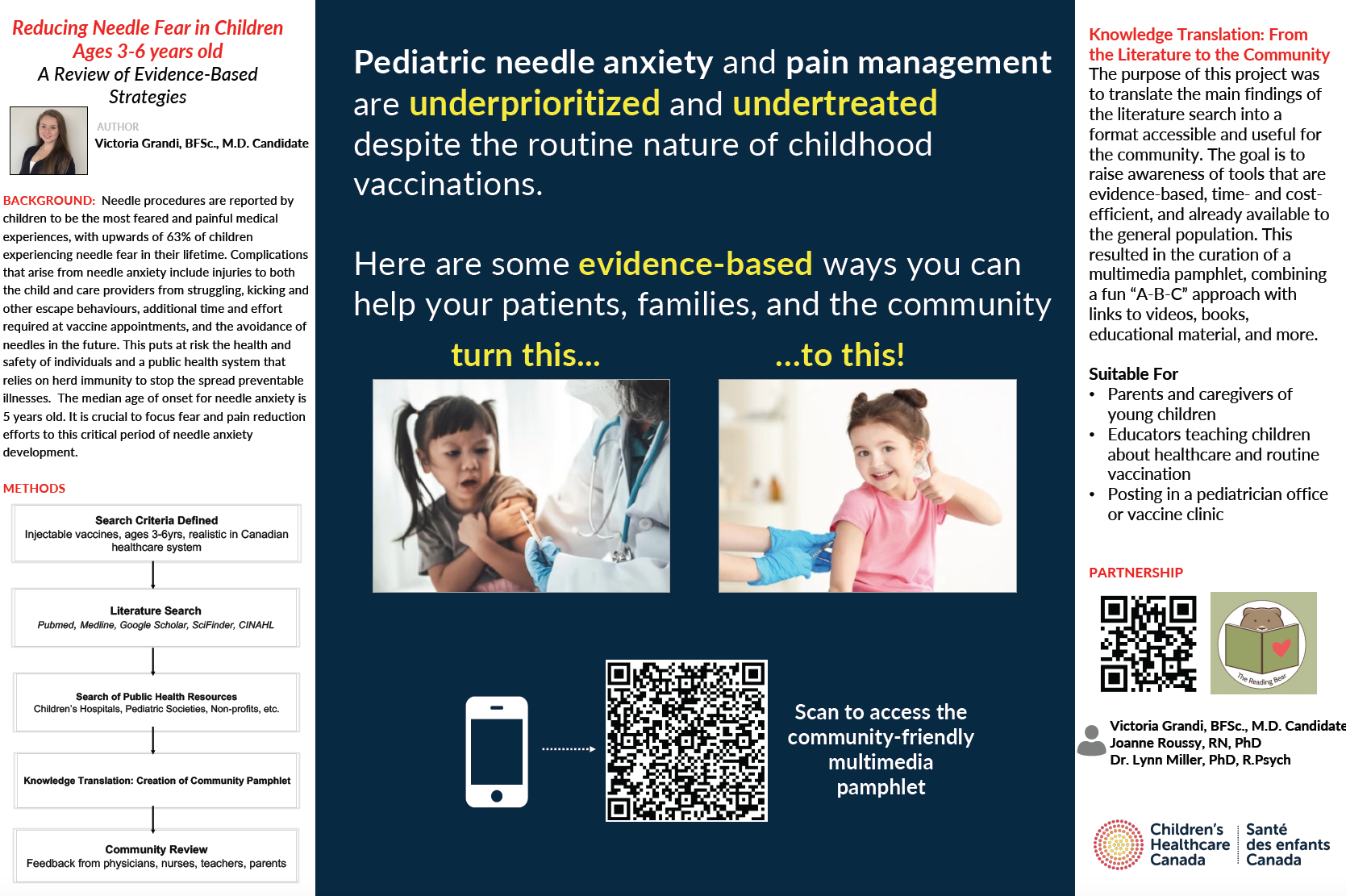 Contact: vgrandi@student.ubc.ca
Scale and spread of Commitment to Comfort across Alberta for COVID-19 immunizations: process, partnerships and collaboration.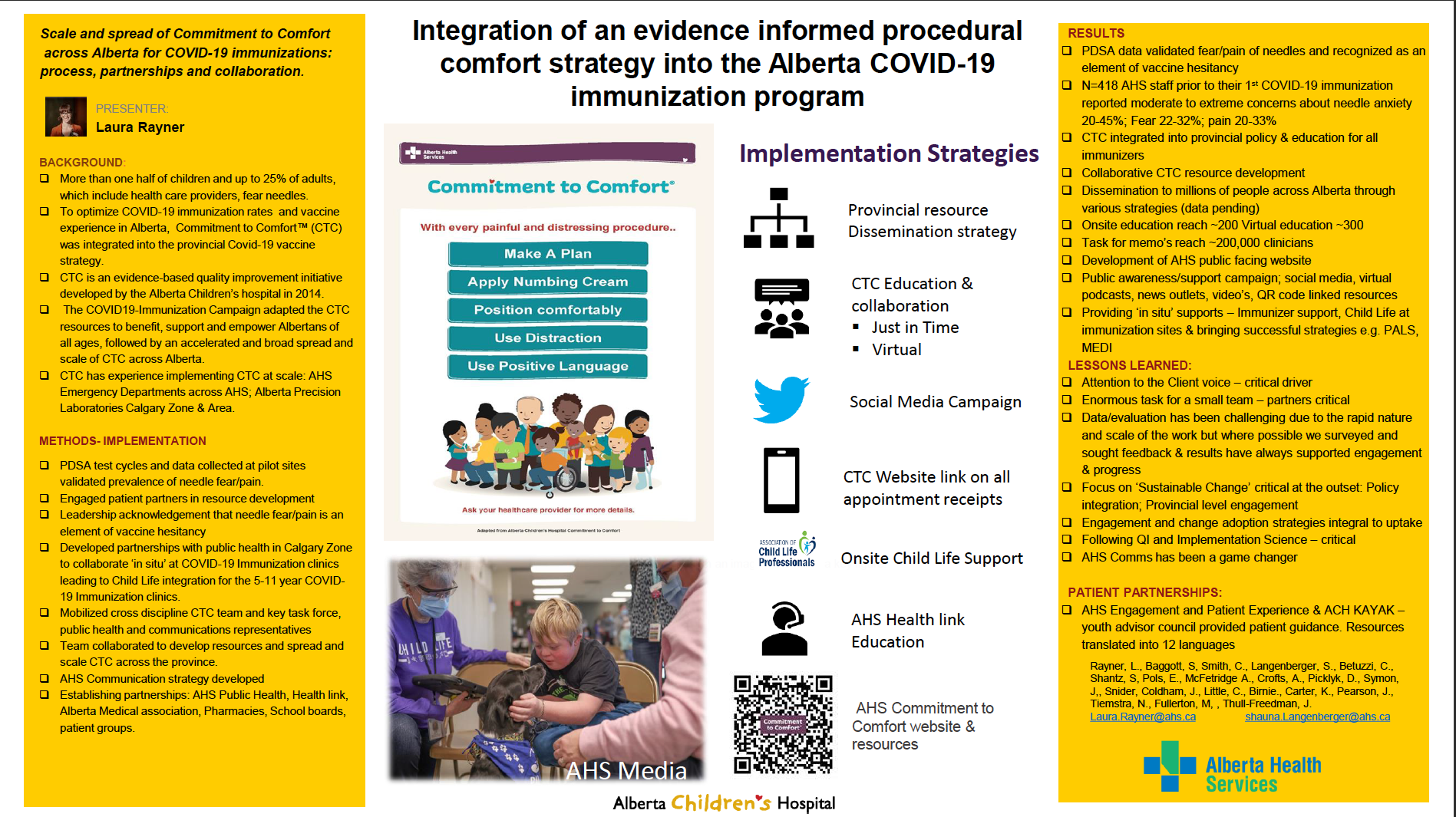 Contact: laura.rayner@ahs.ca
Shared Learning Matters: Engaging Children and/or their Caregivers to Help Prevent Wrong-Vaccine Errors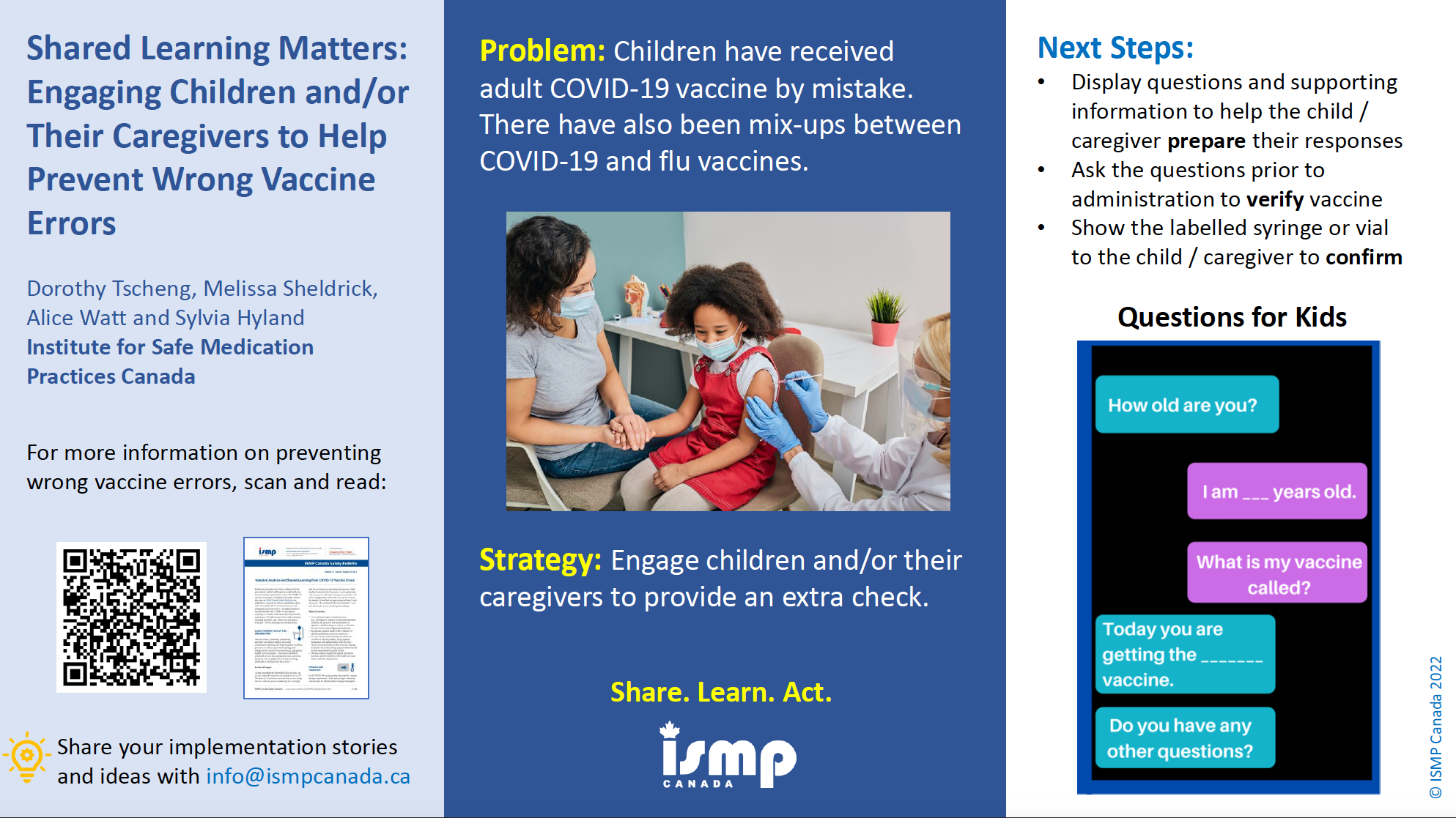 Contact: Dorothy.Tscheng@ismpcanada.ca
Sticking it to COVID-19: Optimizing the vaccination experience to be positive for all children and families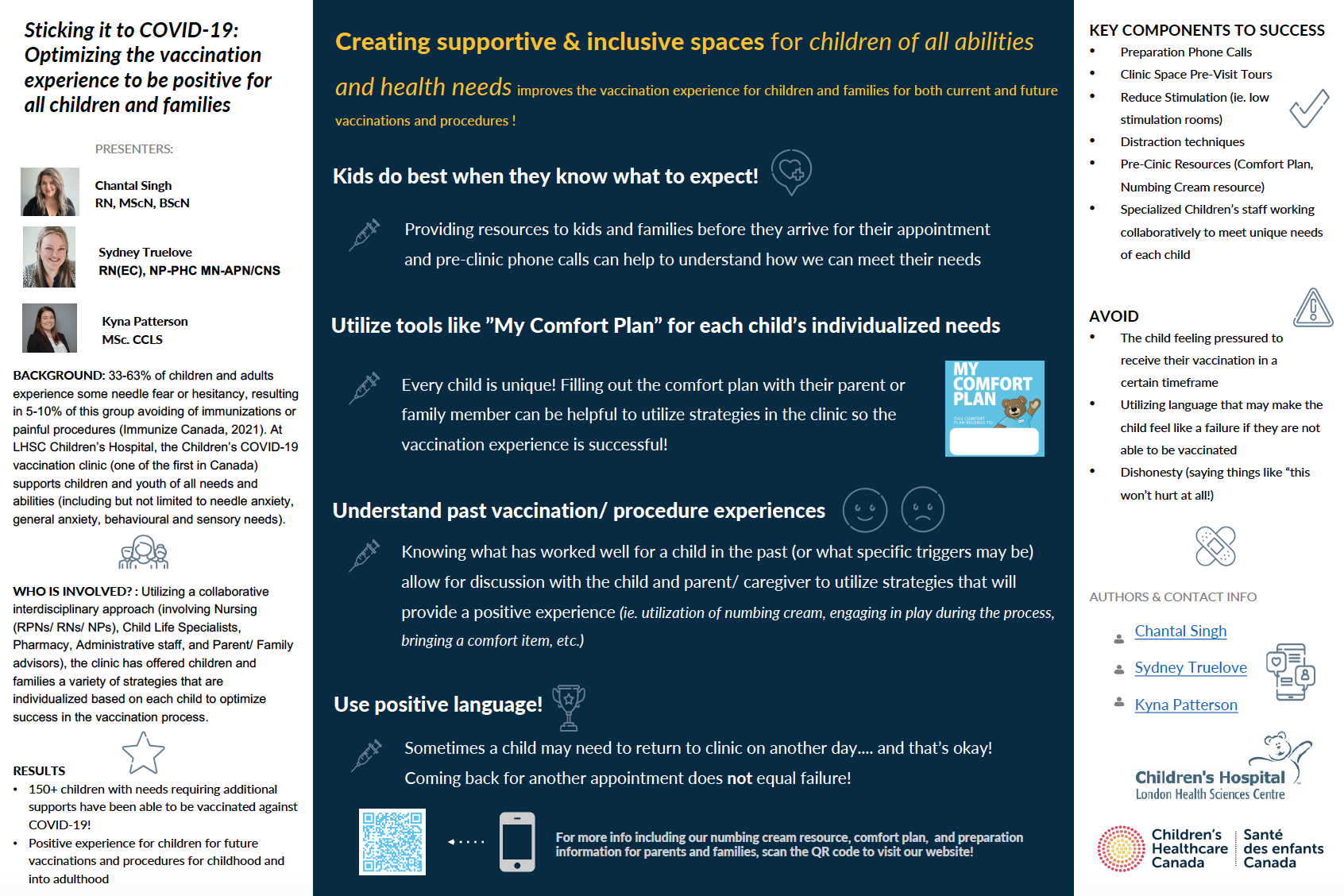 Contact: chantal.singh@lhsc.on.ca
Understanding pain and needle fears as contributors to vaccine hesitancy: A survey of Canadians in the first phase of COVID-19 vaccine rollout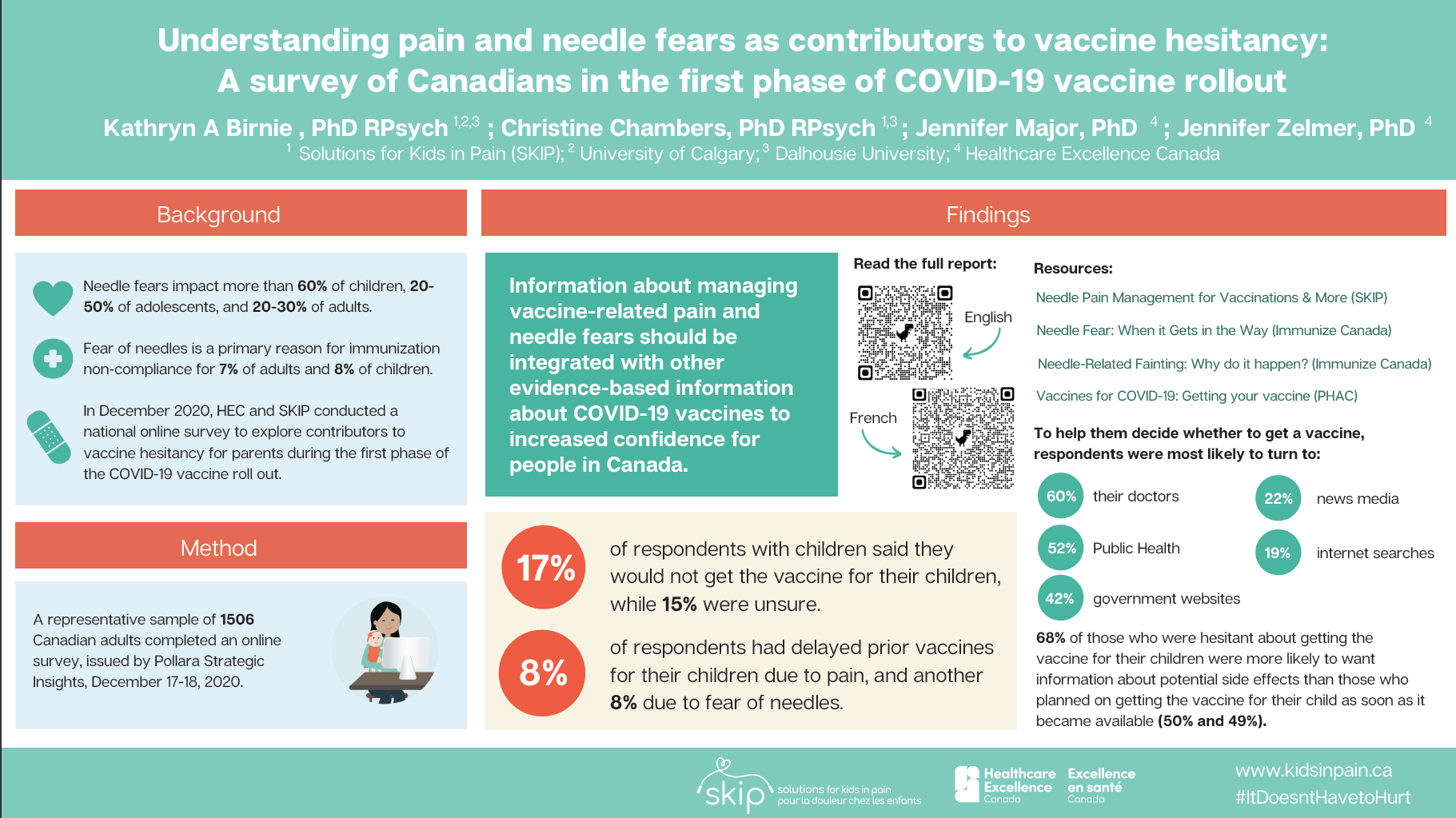 Contact: kathryn.birnie@ucalgary.ca
"Tout doux": Providing French-speaking Canadian families with adequate tools and resources on vaccination for their children in the context of a pandemic.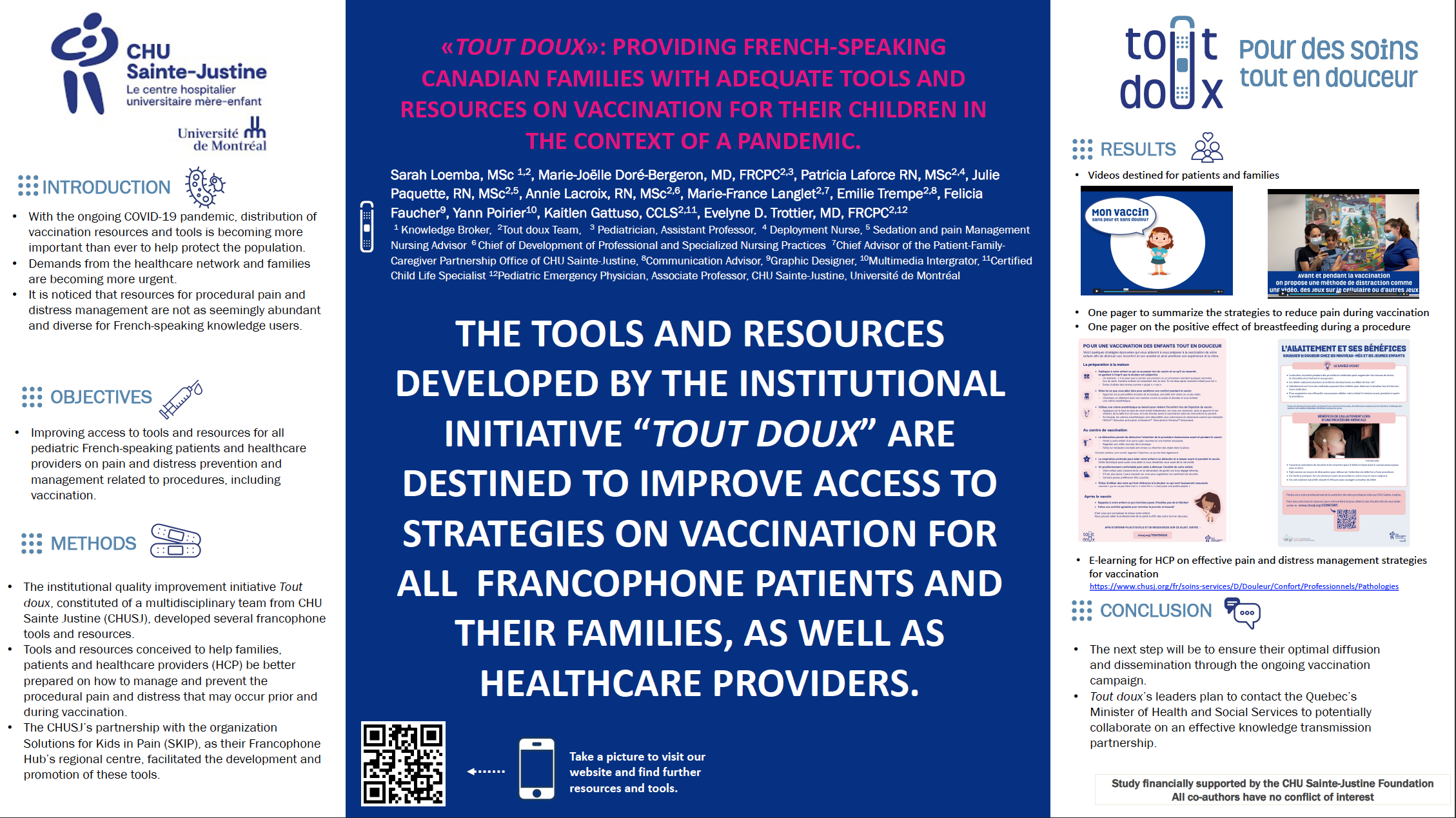 Contact: sarah.loemba.hsj@ssss.gouv.qc.ca