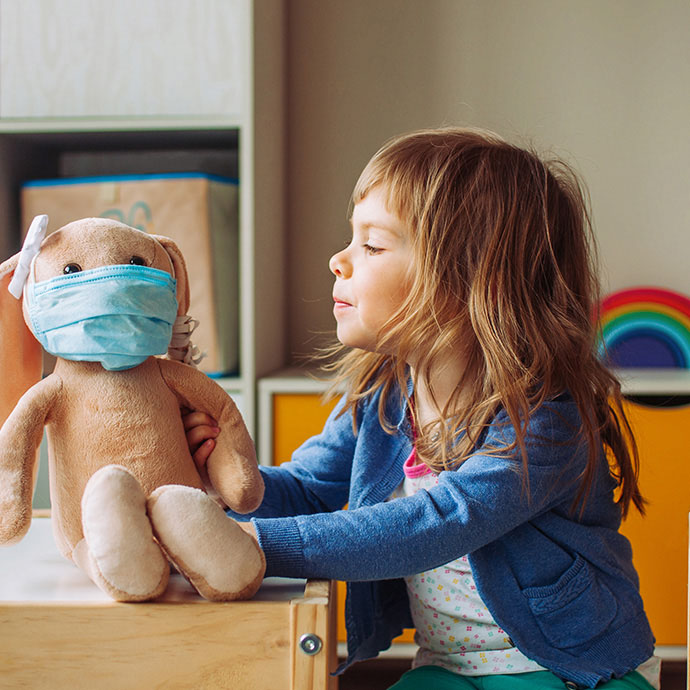 Recent Children's Healthcare Canada Statements
Children's Healthcare Canada actively engages parliamentarians, policymakers and health officials to convene a national dialogue on children's health and well-being in Canada. In collaboration with our child health partners, we identify urgent and emergent challenges, solutions and opportunities that require federal, provincial and territorial leadership. This includes calling for a National Strategy on Child and Youth Health. Keep reading to learn more about our recent policy and advocacy efforts.
Canadians Expect Governments to Put Children First (December 12, 2022)
Recently, Canadian Premiers hosted a news conference requesting increases from the federal government to the Canada Health Transfer to address the growing crisis in healthcare service delivery. The Premiers echoed a call to action featured in a joint statement issued by Children's Healthcare Canada, the Canadian Paediatric Society, and the Canadian Association of Pediatric Nurses, for a First Ministers Meeting between Canadian premiers and the Prime Minister of Canada.

Children's Healthcare Canada and the Pediatric Chairs of Canada support the call for increased investments, further collaboration, overcoming jurisdictional constraints and identifying shared priorities towards addressing the health system crisis. But missing from this discussion is the health and well-being of Canada's 8 million children and youth. We must first acknowledge that Canada has had a longstanding crisis in children's health and we need to make children and youth a priority in our country.
A Call to Action for Canada's Kids (November 18, 2022)
As Canada's federal, territorial, and provincial Ministers of Health met for their first face-to-face meeting since 2018 to discuss priorities in healthcare, children's hospitals and community partners across the country experienced a critical surge in admissions of children and demand. The convergence of healthcare workforce shortages, a particularly difficult respiratory virus season, COVID-19, increased mental health admissions and longstanding backlogs for surgical, child development and diagnostic interventions has overwhelmed child and youth healthcare systems within both hospital and community-based settings.
E Gruenwoldt Testifies Before the House of Commons Committee on Health on the Impacts of Shortages of Over the Counter Analgesics for Children (November 15, 2022)
On November 15, 2022, Children's Healthcare Canada CEO Emily Gruenwoldt was called to testify once again before the House of Commons Committee on Health (HESA). In this instance, the Committee was studying the impacts of shortages of over the counter analgesics for children. Ms. Gruenwoldt shared testimony speaking to the historic volume of patients visiting children's hospitals across the country, and how the shortages of common pain-relieving medications in the community were exacerbating demand for emergency services. Ms. Gruenwoldt's speaking notes can be read here.
Statement on the National Shortage of Children's Analgesics (November 8, 2022)
Canada is currently experiencing a shortage of children's pain and fever medications, triggered by both supply- and demand-related dynamics. Children and families are turning to family physicians, pediatricians, pharmacies, and emergency departments as they struggle to manage their child's fever or pain symptoms at home.
Continue reading the full statement from Children's Healthcare Canada and Solutions for Kids in Pain.
From Vulnerable to Thriving: Investing in Healthy Futures (October 2022)
As the federal government prepares their 2023 budget, Children's Healthcare Canada is calling for the healthcare needs of children and youth to be a priority. This year, we are specifically calling on the federal government to:
Establish an Advisory Council on the Implementation of a Pan-Canadian Child and Youth Health Strategy. 
Prioritize children's mental health by earmarking 25% of federal investments in the Canada Mental Health Transfer for programs for children and youth. 
Invest $29M to advance a robust maternal, child and youth health research agenda. 
 Act immediately on Recommendation 29 of the Advisory Council on the Implementation of National Pharmacare to make pediatric formulations of medicine more accessible. 
 Urgently develop a pan-Canadian HHR strategy that addresses the unique and highly specialized needs of children.
To see our full submission to the House of Commons Standing Committee on Finance's pre-budget consultation, click here.
National Day of Truth and Reconciliation (September 30, 2022)
September 30, 2022
Ottawa, ON -
On September 30, Canada marks the second National Day for Truth and Reconciliation. This day acknowledges the tragic history of residential schools in Canada and honours the Indigenous peoples, survivors, families and communities affected by these schools.
Elevating "Orange Shirt Day" and the experience of Phyllis Webstad on her first day of school, the day encourages reflection on the systematic stripping away of culture, freedom and self-esteem experienced by Indigenous children over generations.

The public commemoration of this day is an important step towards the healing and reconciliation process. It follows as a response to the Calls to Action Report outlined in the Truth and Reconciliation Commission Report. Developed by the National Centre for Truth and Reconciliation (NCTR), the Call to Action report was written in 2015 to guide a process for Canada's reconciliation with Indigenous peoples, urging action from all levels of government.
This year, Children's Healthcare Canada and the Pediatric Chairs of Canada encourage front line leaders, administrators, faculty and others to reflect on reconciliation and decolonization in the context of the healthcare institutions and children, youth and families they serve. We encourage authentic participation and inspire others to participate in marking this September 30th National Day for Truth and Reconciliation by considering these actions:
Seek knowledge about the past through the programs and lectures developed, delivered and approved by Indigenous elders and families.
Wear an orange shirt to acknowledge this historic day to honour the survivors and families of residential schools and to remember those who never made it home.
Help to end racism in your workplace through policy, words and action. Be inspired by the courage and words of Dr. Peter Henderson Bryce, who in 1907 as the Chief Medical Officer of the Department of Indian Affairs, recognized the impact of colonial policies on Indigenous children.
Commit to mentoring , training and hiring more Indigenous young people into the health professions.
Throughout the broad spectrum of our work and in partnership with our members, Children's Healthcare Canada and the Pediatric Chairs of Canada will continue to amplify the message that every child matters and every child is a possibility for a better future.
Bruce Squires, Chair, Board of Directors
Anne Monique Nuyt, President Children's Healthcare Canada Pediatric Chairs of Canada
E Gruenwoldt's opening statement at the Parliamentary Study on Children's Health (September 2022)
Children's Healthcare Canada was invited to appear before the Parliamentary Standing Committee on Health (HESA) to provide critical input to the Child Health Study on the state of children's health care systems in Canada.
Children's Healthcare Canada called on Canada for bold leadership to develop a national child and youth health strategy that would enable conditions for children to thrive. Below is our full recommendation to the HESA committee.
Opening Statement: Emily Gruenwoldt, CEO Children's Healthcare Canada, September 27, 2022
Good morning and thank you for inviting my participation today. For those of you I haven't met, my name is Emily Gruenwoldt. I am the President and CEO of Children's Healthcare Canada.
Children's Healthcare Canada is a national association representing Canada's 16 children's hospitals, as well as community hospitals, rehabilitation centres, home care, palliative and respite agencies that serve children and youth in Canada. Our members span the full continuum of care, giving us a unique perspective on the health systems that serve over 8 million children and youth living in Canada, a population that continues to grow.
Where Canada once ranked amongst the top 10 OECD countries with respect to children's health outcomes, the 2020 UNICEF report card reveals that Canada now stands world's apart from other rich countries when it comes to providing healthy, happy childhoods for every child. Canada's standing has slipped to 30th of 38 comparator countries with respect to children's physical health, and 31st of 38 with respect to children's mental health. Relative to our wealth, Canada punches far below its weight when it comes to children's health.
In Canada today, over 30% of children and youth suffer from chronic diseases, and one in five children experience chronic pain. Pre-pandemic, our children are amongst the least vaccinated in the OECD. We also have one of the highest rates of adolescent suicide in the developed world. At the same time, in Ontario alone, over 28,000 children and youth are waiting to access mental health services, some waiting as long as 2.5 years.
In the wake of the COVID-19 pandemic, children's healthcare systems are facing unprecedented demands. From coast-to-coast, children's hospital emergency departments are experiencing historic patient volumes, approximately 30-50% higher than usual. Patients – children, youth, are often waiting ten to twelve hours to be seen. Many of those who are admitted for serious health conditions, are admitted "without bed," meaning there is no immediate capacity to care for these children. In this situation, to create space and free beds, children's hospitals are cancelling and rescheduling essential surgical procedures, putting children at risk of missing critical developmental milestones.
Mental health visits and admissions are a particular and ongoing concern. Since the onset of the pandemic, many children's hospitals are experiencing a three-fold increase in the number of patients presenting in their emergency departments with acute eating disorders, and nearly double the number of patients presenting with anxiety and depression. A report issued by the Children's Healthcare Coalition this spring observed that between lengthy waits for mental health services, surgical interventions, diagnostic assessments and child development services, children are now waiting longer for essential healthcare services than many adults.
At the same time as children's health systems are facing extraordinary demand for services, children's healthcare organizations are struggling to recruit and retain a skilled workforce. Children are not tiny adults – the health care providers who care for Canada's smallest patients are amongst the most highly specialised. This remains one of the most pressing yet complex challenges in our health systems today, and I recognize, has already been the focus of study by this Committee.
In 2020, in response to the crisis our children are facing, Children's Healthcare Canada partnered with the Pediatric Chairs of Canada, UNICEF Canada and CIHR Institute of Human Development, Child and Youth Health to launch a pan-Canadian initiative called Inspiring Healthy Futures to measurably improve the health and wellbeing of children, youth and families. A broad, cross sector consultation engaging youth, parents/caregivers, healthcare workers, educators, social service providers, policy makers and researchers identified five interlinked priorities to create conditions for children to thrive. The report underscores the need for children's health and wellbeing to be a priority for the public, for funders and decision-makers.
Children's Healthcare Canada is here today to call on the federal government to demonstrate leadership, and urgently develop a bold pan-Canadian child and youth health strategy. This strategy must:
Enable better beginnings by prioritizing maternal and newborn health to give families the best start possible;
Advance precision health and wellness through world-class care for very sick children requiring hospitalization; and
Enable children living with neurodiversity, disability and chronic diseases to transition from vulnerable to thriving.
A comprehensive strategy would not only address the existing gaps and challenges in children's healthcare service delivery, but also anticipate the needs of the future.
First and foremost, children and youth require timely access to appropriate mental health services, close to home. We have normalized rationing and waiting for mental health services to the detriment of children, youth and families, while we know that early intervention pays lifelong dividends. A commitment to earmarking 25 percent of the proposed Canada Mental Health Transfer for children under eighteen would be a crucial first step towards addressing this critical issue.
Second, a robust maternal, child, and youth health research agenda is required to contribute to the generation of new knowledge, and to leverage this evidence to inform policy and programs/services.
Third, a health human resources strategy including a focus on the unique skills and experience required to deliver healthcare services to children and youth. This strategy must address current labour gaps in the healthcare sector but also 'look forward' to foster the resilience and sustainability of our workforce.
Fourth, an integrated, cross sector, cross jurisdiction child health data strategy is necessary to accelerate the mobilization of knowledge to policy, practice and health promotion.
Fifth, a strategy to address unprecedented delays in access to time-sensitive child development, surgical and diagnostic services is integral to improving child health outcomes in Canada.
Sixth, improving access to specialized services for rural, remote and Indigenous populations remains critical to addressing health disparities and promoting health equity in children's healthcare in Canada.
And finally, access to safe and effective medications for children and youth is paramount to improving the quality and safety of children's healthcare in Canada. An estimated 80 percent of all medications currently prescribed in Canadian pediatric hospitals are administered off-label, deviating from the dose, administration, patient age, and often the medical indication listed on the Health Canada approved product monograph.
Colleagues, we stand at a critical juncture. We need to both address the crisis today facing children and youth and the health systems that serve them, but also plan for our future. We have the expertise, knowledge and tools to restore our global standing on children's health. Now, all we need is bold leadership and a commitment from governments to make this possible. Thank you.
Children and Youth Need Decisive Action (June 2022)
By DAVID MORLEY AND EMILY GRUENWOLDT
Published in Hill Times
Environmental damage is not just a distant crisis they will have to deal with in the future; it is damaging the minds and bodies of children right now, and some will live a lifetime with the mounting impacts.
Canada's grades are not top of the class in UNICEF's 17th report card on child and youth well-being, measuring the impacts of environmental damage on children and youth in the world's 39 richest countries.
While Canada had decent grades related to overcrowded housing and environmental education, our country ranked 28th overall, and some of the findings are stinging:
"Canada is a rich country but a poor global citizen," the report concluded. "Of the countries in the Report Card, Canada has the worst ranking for waste production, the second-worst ranking for resource consumption and the third-worst ranking for greenhouse gas emissions. The environmental impacts not only affect children in Canada today, but also spread to children beyond our borders and to future generations."
Canada's high level of wealth fuels activities that contribute to climate change and other environmental damage, without adequate regulation to reduce waste and pollution. Despite Canada's abundant land, water, and other natural resources, these grades show that our country is failing to provide healthy environments for all children.
After many years of regulation, Canada's efforts to reduce children's exposure to toxicants are not complete. The majority breathe air that exceeds the World Health Organization (WHO) safe level, and more than one child in 100 has a poisonous level of lead in their blood, for which there is no safe level. We rank 29th for the percentage of children living in areas with high pesticide pollution risk and 23rd for the impacts of child road traffic casualties. Our children are more likely than many of their rich-country peers to lose years of healthy life from air pollution (ranking eighth) and unsafe water (ranking 24th).
Children's health and their stage of development makes them particularly vulnerable to toxins, extreme weather, lack of clean water, and traffic injury. Environmental damage is not just a distant crisis they will have to deal with in the future; it is damaging the minds and bodies of children right now, and some will live a lifetime with the mounting impacts.
Not surprisingly, children from marginalized, racialized, Indigenous, and lower-income communities are the most negatively impacted, with higher exposure to air pollution and traffic and greater deprivation of safe housing and green spaces.
The good news is that many of these impacts are preventable, and others can be alleviated. It will take stronger environmental protection policies and adaptation plans, at all levels of government, that specifically consider the needs and rights of children and youth and make them a priority.
Environment Minister Steven Guilbeault's mandate letter requires securing the "'right to a healthy environment' in federal law and to introduce legislation to require the development of an environmental justice strategy." The federal government has recently rolled out new emissions, sustainability, and adaptation plans, and tabled Bill S-5 to amend the Canadian Environmental Protection Act. This cornerstone environmental law recognizes that children are a particularly vulnerable group, but Bill S-5 should specifically require child impact assessments to protect them from toxin exposure and other environmental damage. The recently announced National Adaptation Strategy should give children priority in the protection, continuity, and restoration of health, education, and other services and supports when climate change crises disrupt and displace them.
But there is also a critical role for all policies and systems to ensure children and youth are resilient to climate change, including health, education, and social protection policies. We have a plan for that. It's called Inspiring Healthy Futures. Now all we need is for various levels of government to help implement it.
Inspiring Healthy Futures sets out the steps to create the healthy and sustainable future our children and youth deserve today. It was developed by a diverse, pan-Canadian group of youth, parents, researchers, educators, advocates, policy-makers, service providers, and community and business leaders, and it delivers a roadmap for positive change.
The vision emphasizes the need to recognize schools and communities as health and well-being hubs, and to develop child-centred policies and structures, and accessible, adaptable health and well-being systems that can survive environmental crises.
All of this must be driven by impactful research and knowledge.
The outcome would be to increase resilience in children and youth, and essential progress toward providing them with the basic necessities of life such as adequate incomes, food security, good housing, a safe environment, clean water, learning and literacy, development support and childcare, as well as reliable internet.
Finally, kids need to know that their voices are heard – and the release of this year's UNICEF report card provides the perfect opportunity to show that we're listening.
The future is now. Raging storms, floods, and wildfires make the effects of climate change on our communities impossible to ignore. Long wait times for access to mental health services endanger our children and youth. And, long-term boil water advisories in 34 First Nations are a stain on both our history and our present. We can and must do better.
The vision is there. Now we just need government support and action to make it a reality.
David Morley is the president and CEO of UNICEF Canada. Emily Gruenwoldt is president and CEO of Children's Healthcare Canada and executive director of Pediatric Chairs of Canada.
The Hill Times
Gender-affirming care is an essential health service for transgender children and youth (February 2022)
February 25, 2022
Children and youth in Canada have the right to access high quality, comprehensive, and evidence-based care — transgender and gender-diverse youth are no exception. Children's Healthcare Canada strongly opposes the actions taken recently in Texas that directly threaten the ability of providers to deliver care to transgender children and youth, and the health and wellbeing of transgender children and youth themselves.
Across Canada, inclusive, gender-affirming care programs provide accessible, essential, wraparound services including timely access to mental health supports for transgender children and youth, and their families. In many jurisdictions, demand for these programs and services is growing at a pace that currently outstrips capacity. Providers of this care (multidisciplinary teams across the country and across the continuum of care) and the healthcare organizations in which they work deserve to be able to care for and serve these children and youth in safety, and in an environment of respect.
"On behalf of Children's Healthcare Canada, I want to express our continued support for transgender and gender-diverse children, youth, and their families. Nobody should face discrimination or hostility because of who they are. We want kids and families to know that we are with you, we care about you, and we are here to care for you", says Bruce Squires, Board Chair, Children's Healthcare Canada and President, McMaster Children's Hospital.
On the heels of Pink Shirt Day – a movement to bring awareness to the harms associated with bullying, Children's Healthcare Canada calls on governments to strengthen policies, and fully fund research and programs that build additional capacity for evidence-based care for the transgender and gender non-conforming population. Further, we ask governments to ensure the safety of children, youth and families seeking these essential services and the healthcare workers who provide them.
Children's Healthcare Canada proudly stands with healthcare organizations and providers here and abroad whose services and safety are under threat.
Contact: Emily Gruenwoldt, President and CEO, Children's Healthcare Canada (egruenwoldt@childhealthcan.ca)
Contact:
Questions or comments? Looking to support our advocacy efforts as a content expert or someone with lived experienced as a patient, caregiver, or family of a child or youth? Please send us an email at mwilliams@childrenshealthcarecanada.ca