ICC: From Practice to Policy- Poster Hall
These posters were shared at From Practice to Policy- Keeping What Worked event on September 2022. The research reflects what was known at that time.
Click on the plus sign to view the poster and find contact information for the authors. Please contact the authors by email if you have any questions or comments.
Building Vaccine Confidence- Understanding the Perspective and Experience of Registered Nurses within the SickKids COVID-19 Vaccine Consult Service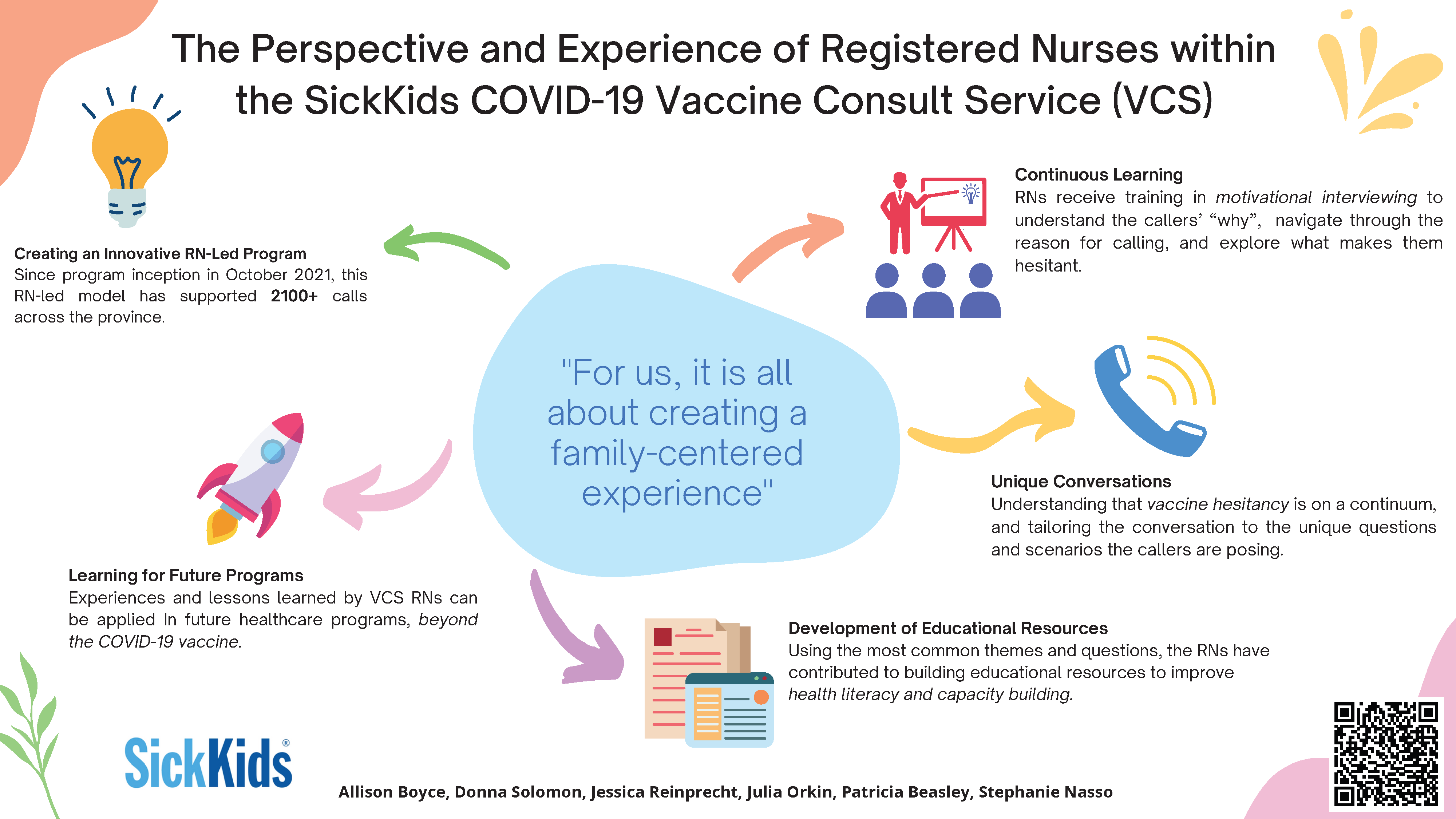 Authors
Jessica Reinprecht, Clinical Manager, COVID-19 Testing, Vaccination and Community Outreach Centre

Donna Solomon, Team Lead Registered Nurse, COVID-19 Vaccine Consult Service

Dr. Julia Orkin, Staff Physician - Division of Paediatric Medicine, Medical Officer Integrated Community Partnerships, Medical and Fellowship Director - Complex Care Program, Division of Paediatric Medicine, SickKids, Department of Paediatrics, University of Toronto and Child Health Evaluative Sciences SickKids Research Institute

Allison Boyce, Registered Nurse, COVID-19 Vaccine Consult Service

Patricia Beasley, Registered Nurse, COVID-19 Vaccine Consult Service

Stephanie Nasso, Team Lead Registered Nurse, COVID-19 Vaccine Consult Service
Abstract
The SickKids COVID-19 Vaccine Consult Service (VCS) is an innovative, nurse-led telephone consultation service for residents of Ontario who have questions and/or concerns about COVID-19 vaccination for children and youth, pregnant or breastfeeding individuals and those planning for pregnancy. The aim of the VCS is to address vaccine hesitancy, and enhance COVID-19 vaccine uptake. The VCS provides equitable access to timely and reliable information about COVID-19 vaccines within a safe and judgement-free environment.
In providing this service to clients and individuals, the VCS Registered Nurses (RN) have completed ongoing training in Motivational Interviewing and applied evidence-based research specific to vaccine hesitancy and its many components, navigating each consultation uniquely.
Alongside the individual consultations, the common questions and themes that arise from these conversations have been collected by the RNs and have contributed to building ongoing educational information resources (e.g. SickKids AboutKidsHealth FAQ, Parent Homework COVID-19 Vaccine Campaign, educational resources for Public Health Units etc.) to improve health literacy and capacity building.
VCS telephone consultations have been well-received by patients, caregivers and families, particularly with the roll out of pediatric COVID vaccine for the 5-11 age group the recent 6 months to 5 years age group approval for Moderna Spikevax.
The VCS, in collaboration with community partners, continues to work towards addressing gaps in the current healthcare environment to provide evidence-based information about the COVID-19 vaccines and further identify the need for equitable and timely service.
The nurse-led practice model should be considered for future development of programs to support patients and families in making informed decisions on all vaccines, not only specific to COVID-19.

Contact
Jessica Reinprecht jessica.reinprecht@sickkids.ca
Communicating in times of COVID-19: Webinar for families with children with special health care needs Authors
Esther Lee

Tessa Diaczun

Manish Sadarangani

Sylvia Stephens
Abstract
Goals of the webinars:
• Connect with families to: alleviate isolation, inform, educate on a variety of topics relevant to their needs, and have a platform for regular check-ins.
• Value diversity in backgrounds, experiences, and perspectives, be inclusive, inviting, and accepting of differences
The Family Support Institute of BC (FSI) is a provincial not-for-profit society committed to supporting families who have a family member with a disability. FSI is unique in Canada and the only grassroots family-to-family organization with a broad volunteer base. FSI's supports and services are FREE.
BC Children's Hospital Complex Care (CC) program supports families with children with medical complexity and is the clinical lead for the province in this area. With the COVID-19 pandemic, BCCH CC organized webinars to meet the need for information of our families in June 2020 and continued until June 2021. There was survey that was filled by families beforehand so the specific concerns can be covered during the session. There was a Q&A component during the webinar. A written summary was provided to families. One quote from a caregiver "I felt not so alone after that webinar and I left feeling more confident. Not just in my decisions with my family but with covid and my mental well being."
In 2021, CC partnered with FSI to have the webinars sustainable. FSI would do the administration and organization, while CC guided in topic choice, expert speaker recruitment and facilitation.
November 2021, we had a webinar specific to immunization for children with special health care needs. This was well attended with 35 families attending (75 registered) and many more receiving the webinar recording link and written summary. We addressed concerns re: immunizations on COVID-19 as well as other pediatric immunizations.
In 2022, we received the Community Conference Grant from the Sick Kids Foundation and will continue the webinars to support the information needs of families with children with special health care needs.
To meet the needs of our families, we will have our next immunization webinar session earlier in fall 2022 to match the recent approval for COVID-19 immunization for children 0-5 years.
Contact
Esther Lee esther.lee@cw.bc.ca
Creating an accessible and welcoming space to vaccinate children with disabilities and medical complexity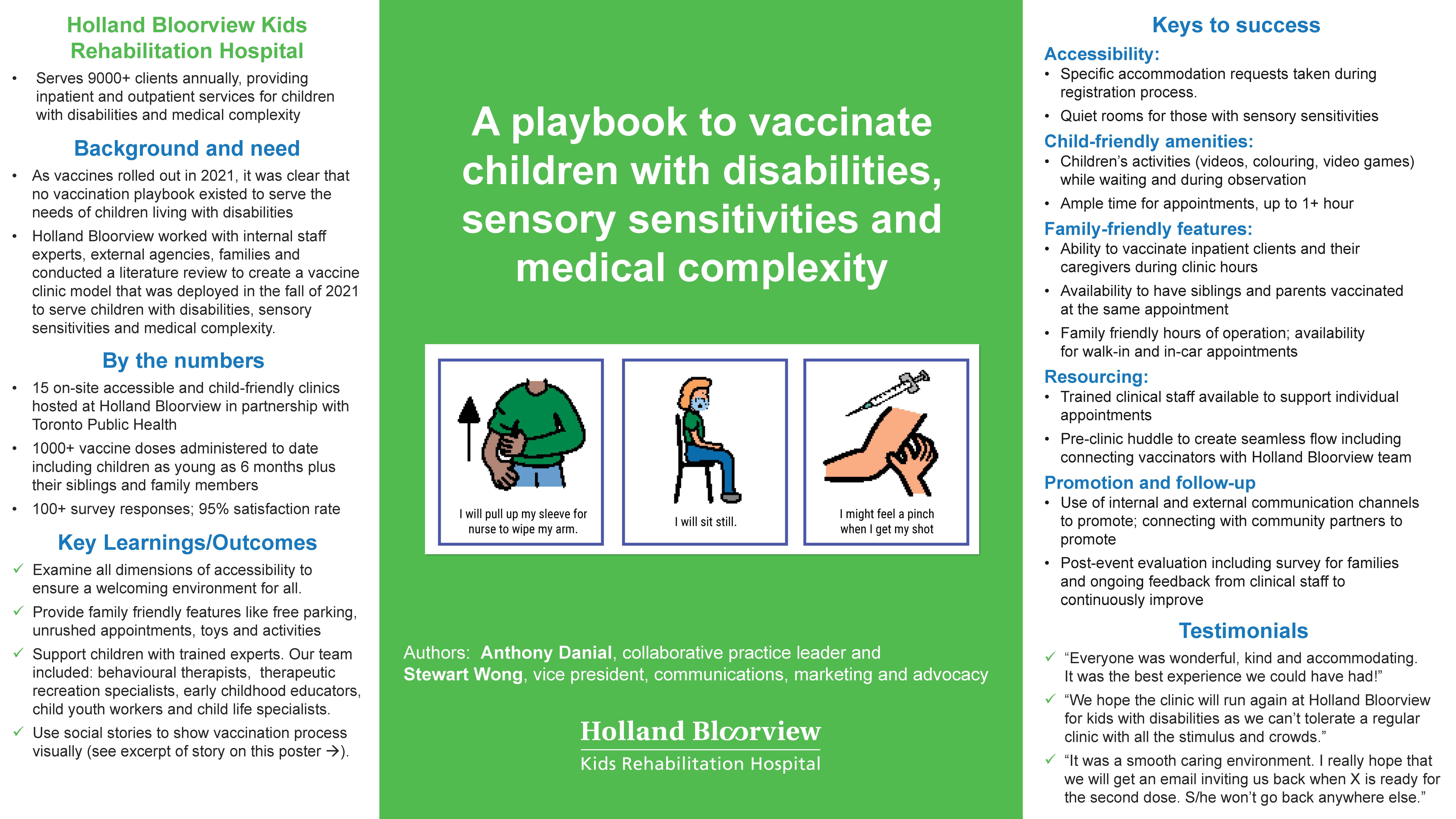 Authors
Anthony Danial

Stewart Wong
Abstract
For children with disabilities and medical complexity, COVID-19 testing and vaccination can be stressful. The team at Holland Bloorview Kids Rehabilitation Hospital worked from scratch to create a vaccine playbook for this specialized population. To date, we've run 16 accessible and family-friendly vaccine clinics.
In partnership with Toronto Public Health, Holland Bloorview hosted its first on-site vaccine clinic for children and youth in mid-2021, when vaccines were generally available to this population. Youth and adults with disabilities had the opportunity to attend a sensory-friendly, family-friendly and fully-accessible vaccination environment. Since inception, over 1,100 does have been administered at Holland Bloorview-led clinics.
Key components of the clinics:
• Children's activities while waiting and during observation
• Quiet rooms for those with sensory sensitivities
• Accessibility features: nurses with clear masks available, instantaneous translation for non-English speakers by phone, clear signage, accessible space
• Support of behavioural therapists or recreational therapists during individual appointments
• Specific accommodation requests taken during registration process.
• Free parking
• Free water station
• Toy give-away and stickers given to each child vaccinated
• Availability to have siblings and parents vaccinated at the same appointment
• Ample time for appointments, up to 1 hour in some cases
• Post-event evaluation including survey for families and ongoing feedback from clinical staff
• Support of Holland Bloorview volunteers
• Easy and accessible sign up, use of QR codes
• Family friendly hours of operation (garnered feedback from clients, families, staff); accommodating families until final minutes of the clinic; Availability for walk-in appointments
• Pre-clinic huddle to create seamless clinic flow and help identify how to connect vaccinators with expert trained staff
• Social story created to help prepare kids for vaccination and ease stress of process
• Clear and ongoing partnership and communication with public health partners (Toronto Public Health)
• Use of internal and external communication channels to promote
• Communicating with community health partners and schools about clinic availability
Contact
Anthony Danial adanial@hollandbloorview.ca
London Health Sciences Centre Pediatric COVID-19 Vaccine Clinic: Overcoming Barriers for Vaccine Uptake in Children
Authors
Leah Ethier

Dr. Michelle Barton-Forbes

Kyna Patterson

Sydney Truelove

Karen Groeneweg

Chantal Singh

Leah Watson

Nicole Turner

Lynanne Mason
Abstract
Background: Following Health Canada approval of COVID-19 vaccines in children over 12 years of age in May 2021, public health launched a pediatric vaccine campaign through local health units. We sought to optimize pediatric vaccine uptake in groups that traditionally have barriers to participation in mass vaccine clinics.
Aim: To review practice experience and key lessons learnt from a child focused hospital-based vaccine clinic developed at London Health Sciences Centre as a special initiative to enhance uptake of COVID-19 vaccines in children with needle phobia or anxiety, or those with comorbidities and unique immunization needs.
Methods: A nurse-practitioner (NP)-supervised immunization clinic model was developed in collaboration with the Middlesex Health Unit with integral players including registered practical nurses (RPN), child life specialists, and clerical support. With successful implementation and stability of the clinic, NP presence was phased out and the clinic became RPN-led. Infectious Disease expertise was available on an as needed basis. The space was child friendly, and provided private rooms for vaccination which were low stimulation compared to mass immunization clinic models. Timing of clinic was selected to allow for attendance of families after work and school hours with allocation of extended appointment time intervals. Principles from the Comfort Promise were incorporated into the clinic as a strategy to address anxiety and maximize comfort.
Results: The LHSC Pediatric COVID-19 vaccine clinic began operation August 10, 2021 and was run weekly on Tuesdays from 4 pm until 8pm. At the peak of the clinic when vaccines were in high demand, an average of 12 children were vaccinated weekly. Children rarely left the clinic unimmunized, and if they did, immunization was often successfully achieved at a subsequent visit.
Conclusion: Our hospital-based vaccine clinic staffed by pediatric trained personnel complemented the local public health COVID-19 vaccine campaign in children. The clinic was successful in providing opportunities for maximizing vaccine uptake by providing specialized support for children with anxiety and needle phobia and those with comorbidities who have unique immunization needs. Given the success of this model, future endeavors should address expansion of vaccines offered to include other childhood vaccines.
Contact
Leah Ethier Leah.ethier@lhsc.on.ca
Practice Supports Can Bridge a Knowledge Gap to Enable Non-Pediatric Clinicians to Support Children and Youth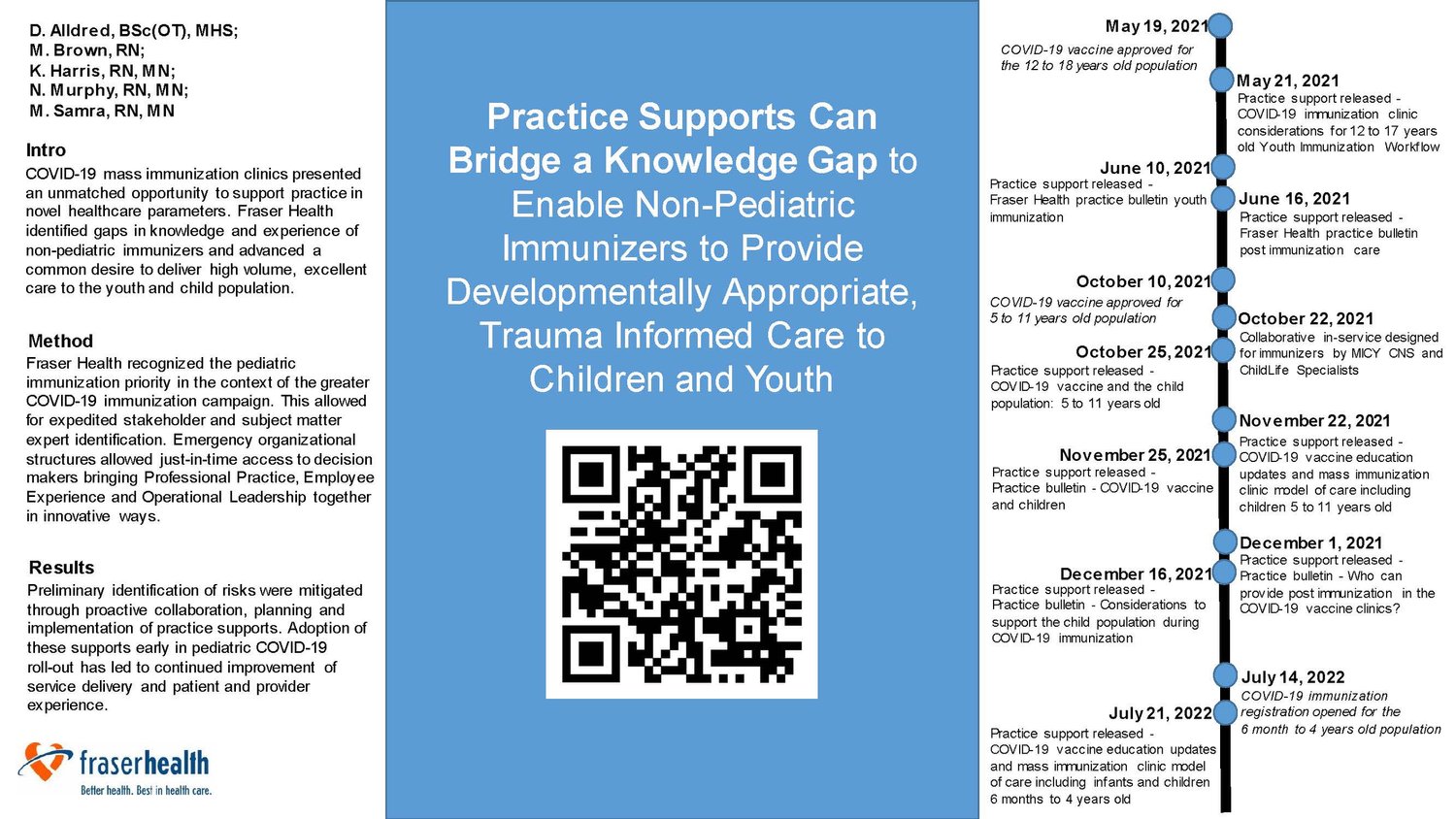 Authors
Kirsten Harris

Darlene Alldred

Maneet Samra

Melissa Brown

Natalie Murphy
Abstract
Introduction
COVID-19 Mass Immunization clinics presented an unmatched opportunity to support practice in novel healthcare parameters. Fraser Health identified gaps in knowledge and experience of non-pediatric immunizers and advanced a common desire to deliver high volume, excellent care to the Youth and Child population. Extraordinary collaboration within short timelines, fostered strategies to anticipate and address immunizer practice.
Methods
Fraser Health recognized the pediatric immunization priority in the context of the greater COVID-19 immunization campaign. This allowed for expedited stakeholder and subject matter expert identification. Emergency organizational structures allowed just-in-time access to decision makers bringing Professional Practice, Human Resources and Operational Leadership together in innovative ways. Division of work allowed for prompt creation, vetting and facilitation of numerous supports for non-pediatric immunizers. These supports included eLearning, practice bulletins, practice alerts, Keeping You Informed (KYI) updates, team huddles, manager updates and point of care leader in-services. Concerns identified in clinics were communicated and addressed through established networks.
Results
Initially identified risks were mitigated through proactive collaboration, planning and implementation of practice supports. Adoption of these supports early in pediatric COVID-19 roll-out has led to continued improvement of service delivery.
Contact
Kirsten Harris kirsten.harris@fraserhealth.ca
Supporting our heroes: Lessons learned from the Grandview Kids Paediatric COVID-19 Vaccine Clinic for children with disabilities and special concerns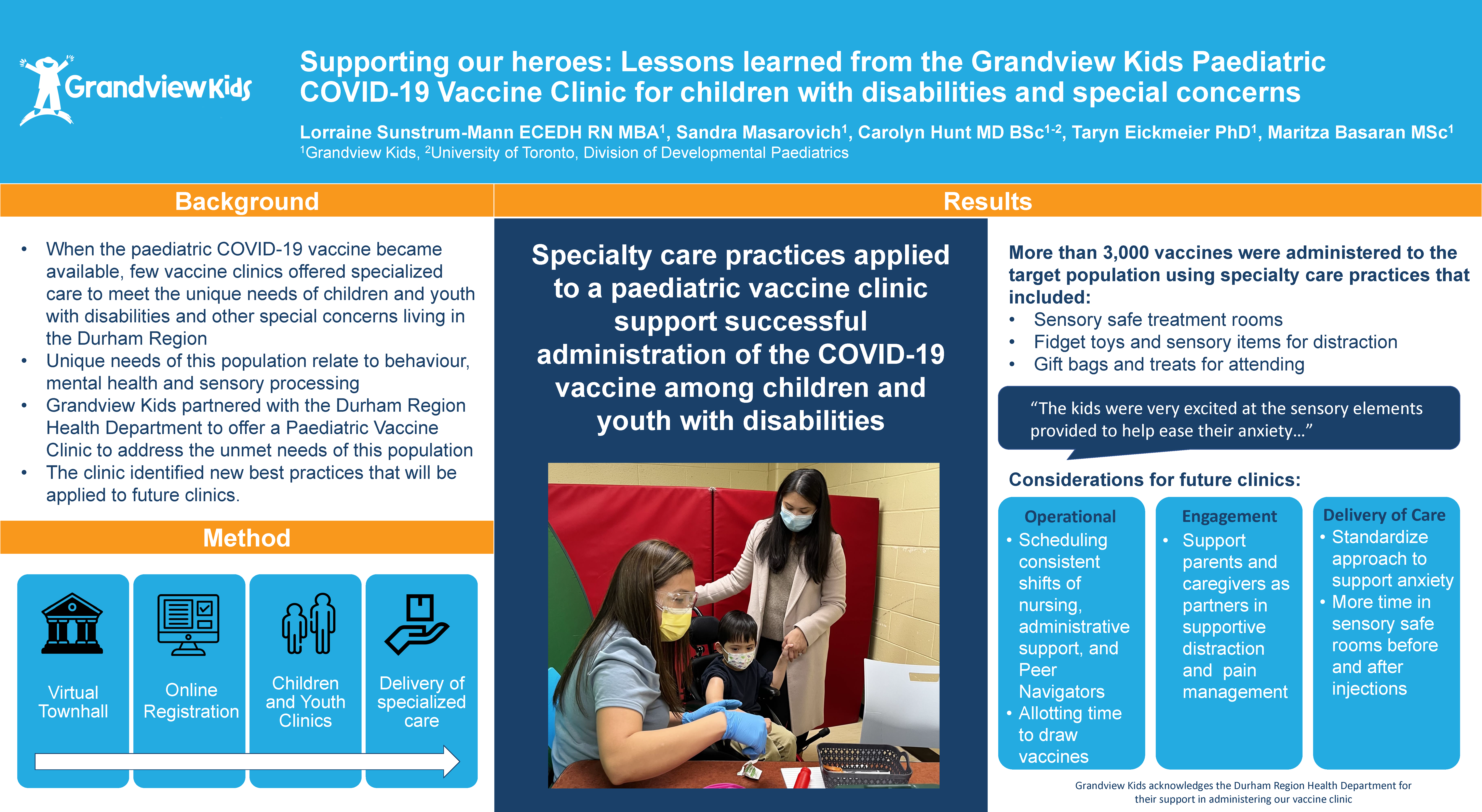 Authors
Taryn Eickmeier

Lorraine Sunstrum-Mann

Carolyn Hunt

Sandra Masarovitch

Maritza Basaran
Abstract
Background: When the paediatric COVID-19 vaccine became available in the Durham Region, Ontario, there were few opportunities for children and youth with disabilities and special concerns to receive specialized care to address their unique needs. The senior leadership of Grandview Kids enacted a novel partnership with the Durham Region Health Department to offer a Paediatric Vaccine Clinic between January and March 2022.
Objective: This presentation will describe the innovative approach to care provided, including: technology support for digital registration, creating a child-focused atmosphere, strategies applied to address anxieties and special concerns of children, and the success of the Clinic as shared by clients' families and medical professionals.
Key reports: Following a virtual Town Hall provided in partnership with local paediatricians and the Durham Region Associated Medical Officer of Health, Grandview Kids opened an online registration portal using EventBrite. The Clinic was made available first to children ages 5 to 11, then to youth 12 to 18 years, Grandview Kids staff, and parents attending the Clinic. The Clinic was advertised through news releases, websites, social media and word-of-mouth. The Clinic was staffed by nurses, developmental paediatricians, clerks, and Peer Navigators from the Grandview Kids Family Engagement Team with previous experience and expertise in caring for children with disabilities and supporting their caregivers. Specialty care practices included sensory-safe rooms to administer vaccinations, fidget toys, movies, gift bags and treats for attending. Counselling and thoughtful distractions were used to calm anxieties. Positive feedback from families was received, such as: "The kids were very excited at the sensory elements provided to help ease their anxiety and the gift table afterwards was a big hit." Lessons learned included: managing staffing, allotting time to draw vaccines, standardizing approaches to address clients experiencing enhanced anxieties, supporting parents and caregivers as partners in supportive distraction and pain management techniques, and time in sensory-safe rooms ahead of and after injections for families.
Conclusion: The Clinic successfully administered more than 3,000 vaccines to children and youth with disabilities or special concerns. Future clinics will embed newly emerged best practices and lessons learned.
Contact
Taryn Eickmeier taryn.eickmeier@grandviewkids.ca
The Island Vaccine Support Program: A COVID-19 vaccine literacy intervention in Prince Edward Island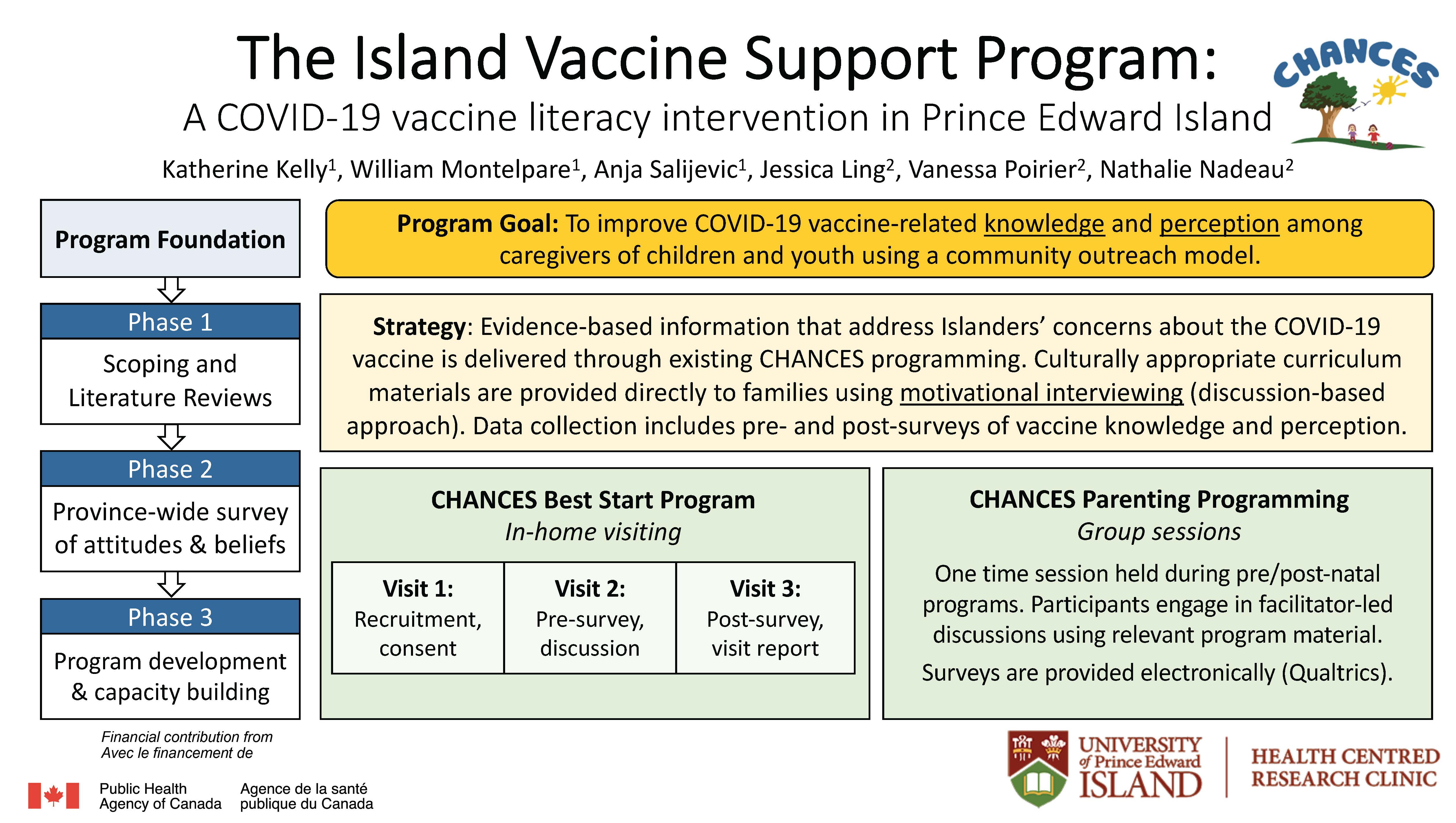 Authors
Katherine Kelly

William Montelpare

Anja Salijevic

Jessica Ling

Nathalie Nadeau
Abstract
Widespread misinformation has contributed to COVID-19 vaccine hesitancy in parents of children under the age of 12 years; however, targeted interventions that provide support and advance health literacy can promote vaccine confidence. This research aims to (1) deliver a province-wide vaccine support intervention through a community outreach model, using an existing home visiting program and group parenting program; and (2) investigate the impact of the two models of information dissemination on COVID-19 vaccine-related knowledge and perception in parents. Informed by a province-wide survey, we curated a curriculum of materials that address the concerns of Island families about the vaccine. Evidence-based information will be delivered directly to families using motivational interviewing, as facilitated by program facilitators, beginning in September 2022. Evaluation of program impact on participants' knowledge and attitude about the vaccine will be measured through pre- and post-surveys and reports completed by program facilitators. Knowledge generated from this project will be used to inform future interventions that aim to support informed decisions about childhood immunization.
Contact
Katherine Kelly kjkelly@upei.ca
Accessible and Specialized COVID-19 Testing for Children and Youth with Medical Complexity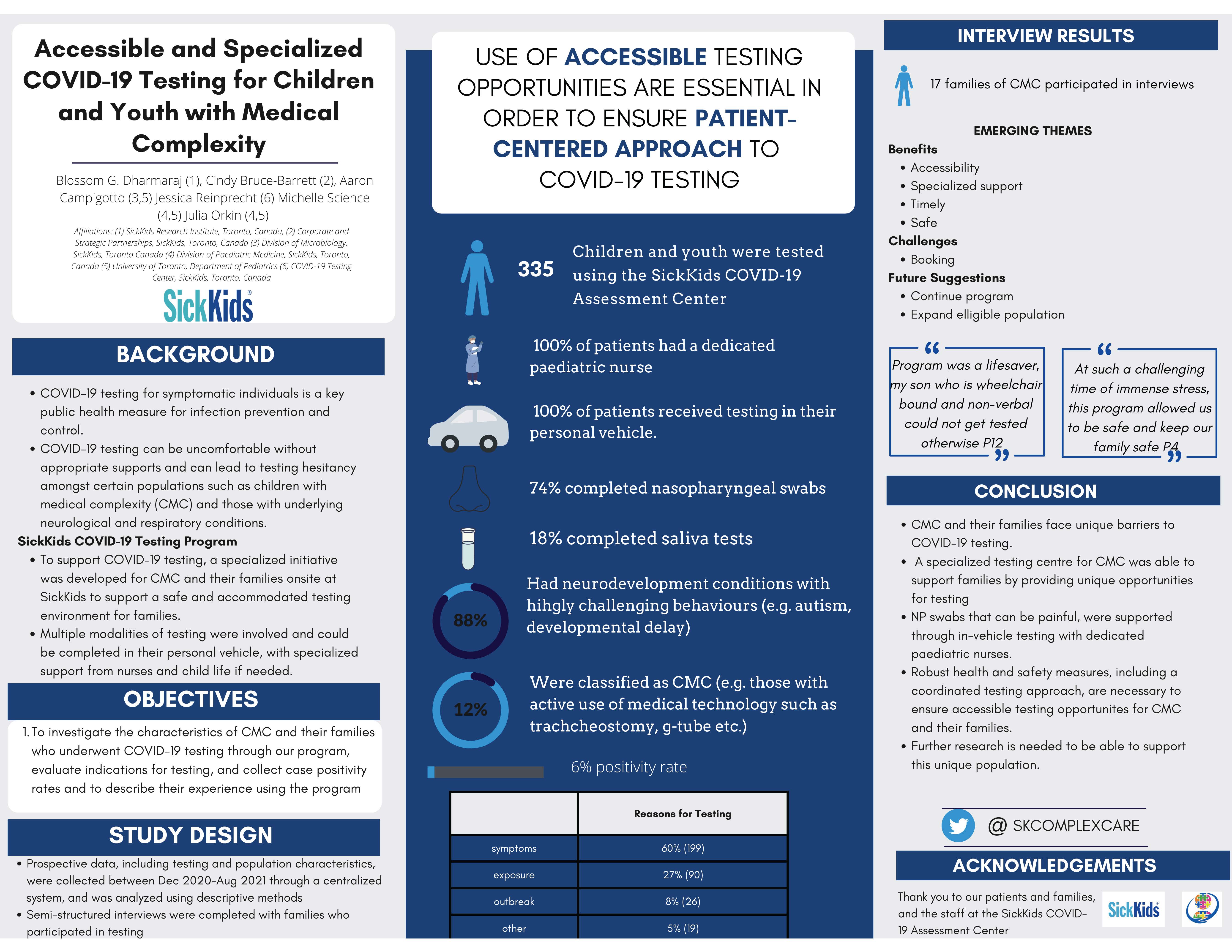 Authors
Blossom Dharmaraj

Cindy-Bruce Barrett

Dr Aaron Campigotto

Dr Michelle Science

Dr Julia Orkin
Abstract
Background: COVID-19 testing for symptomatic individuals is a key public health measure for infection prevention. However, COVID-19 testing can be uncomfortable and can lead to testing hesitancy amongst certain populations such as children with medical complexity (CMC). To support COVID-19 testing, a specialized initiative was developed for CMC and their families onsite at SickKids to enhance testing uptake, reduce barriers to access, and support an accommodated testing environment. Multiple modalities of testing were involved and could be completed in their personal vehicle, with specialized support from nurses/child life if needed.
Objectives: The objectives of our study were to investigate the characteristics of CMC and their families who underwent COVID-19 testing through our program, evaluate indications for testing, and collect case positivity rates.
Design/Methods: Prospective data, including testing and population characteristics, were collected between December 2020-August 2021 through a centralized system, and was analyzed using descriptive methods.
Results: 335 CMC came to the COVID-19 Assessment Center for testing. Of those who were tested 88% (294) had neurodevelopmental conditions behaviours (e.g. autism, developmental delay), and 12% (28) were classified as CMC (i.e. those with active use of medical technology e.g G-tube). Of those tested, 6% (21) tested positive for COVID-19. Sixty percent (199) were tested due to having symptoms consistent with COVID-19, 27% (90) had a COVID-19 exposure, 8% (26) were exposed and tested as part of outbreak management. The majority of completed tests (74%) were nasopharyngeal (NP) swabs, 18% completed saliva tests and 6% completed anterior nares/throat swab tests. Thirteen percent (43) of families requested additional supports such as extra nurses, child life specialists or other accommodations. All patients had a dedicated paediatric nurse and received testing in their personal vehicle.
Conclusion: CMC and their families face unique barriers to COVID-19 testing. A specialized testing centre for CMC was able to support families by providing unique opportunities for testing, revealing a 6% COVID-19 positivity rate. NP swabs that can be painful, were supported through in-vehicle testing with dedicated pediatric nurses. Robust health and safety measures, including a coordinated testing approach, are necessary to ensure accessible testing opportunities for CMC and their families.
Contact
Blossom Dharmaraj blossom.dharmaraj@sickkids.ca